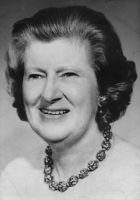 BROWN, Jean Hamilton Roxburgh

1905 - 1985 (80 years)
Generation: 1
1.
BROWN, Jean Hamilton Roxburgh was born on 25 May 1905 in 8 Wood Street, Partick, Lanark County, Scotland (daughter of BROWN, Joseph and JOHNSTON, Isabelle Adams); died on 13 Aug 1985 in LOS ANGELES, California.

Jean married TRAPNELL, Valentine Coles on 24 May 1930 in Grace Church Chantry, New York, NY, USA. Valentine (son of TRAPNELL, Major Thomas Tidball and VALENTINE, Edna Sarah) was born on 2 Aug 1910 in 19 W 101 Street, New York, NY, USA; died on 29 Jan 1999 in Los Angeles, CA; was buried on 14 Feb 1999 in Westwood Memorial Park, Los Angeles, CA. [Group Sheet]

Children:

TRAPNELL, Sarah Valentine was born on 28 May 1937 in Brooklyn, Kings, New York, USA; died on 18 Apr 2006 in 3702 Redwood Circle, Palo Alto, Santa Clara, CA; was buried in Jun 2006 in Holy Trinity Episcopal Parish, 330 Ravenswood, Menlo Park, San Mateo, CA, USA.



Generation: 2
2.
BROWN, Joseph was born on 15 Jan 1869 in Greenoch, Scotland (son of BROWN, Hugh and ROXBURGH, Jane); died on 27 May 1957 in Brooklyn, Kings, New York, USA.

Joseph married JOHNSTON, Isabelle Adams about 1903. Isabelle (daughter of JOHNSTON, James and HAMILTON, Jean) was born in Mar 1875 in Greenoch, Scotland; died about 1972 in Brooklyn, Kings, New York, USA. [Group Sheet]





Generation: 3
Generation: 4
---
This site powered by