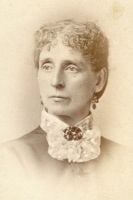 GRAVES, Delilah

1833 -
Generation: 1
1.
GRAVES, Delilah was born 28 Nov 1833, Metheun, Essex, MA, USA (daughter of GRAVES, John and SMITH, Delilah).

Delilah married DAVIS, Edwin Lawrence 22 Jun 1851. Edwin (son of DAVIS, Timothy Jr and LAWRENCE, Susan) was born 17 Feb 1831, Billerica, Middlesex, MA, USA; died 6 Jan 1897, Springfield, Hampden, MA, USA. [Group Sheet]

Children:

DAVIS, George Lawrence was born 26 Mar 1854, Palmer, Hampden, MA, USA; died 29 Nov 1883.



Generation: 2
2.
GRAVES, John was born 27 Sep 1800, New Market, Rockingham, NH, USA (son of GRAVES, Joseph and BADGER, Mary); died 23 Nov 1880, Palmer, Hampden, MA, USA.

John married SMITH, Delilah 3 Feb 1822, Boston, MA, USA. Delilah (daughter of SMITH, James and PINKHAM, Abigail) was born 12 Apr 1798, Wolfborough, Carroll, NH, USA; died 4 Jun 1873, Palmer, Hampden, MA, USA. [Group Sheet]




| | |
| --- | --- |
| 3. | SMITH, Delilah was born 12 Apr 1798, Wolfborough, Carroll, NH, USA (daughter of SMITH, James and PINKHAM, Abigail); died 4 Jun 1873, Palmer, Hampden, MA, USA. |



Generation: 3
Generation: 4


---
This site powered by