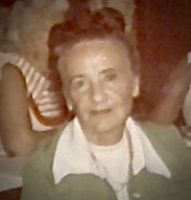 LEVINE, Rae

1897 - 1974 (76 years)
Generation: 1
1.
LEVINE, Rae was born 4 Feb 1897, Odessa Russia; died Jan 1974, Miami Beach, Florida, USA.

Rae married SHEINAUS, Louis (Foff) 1957. Louis (son of SHEINAUS, Abraham and OREL, Frima (Litttle Bubbe)) was born 11 May 1892, Russia (Kishinev, Moldava), then Roumania; died Oct 1979, Larchmont, NY. [Group Sheet]

Rae married STANG, William. William was born , Austria. [Group Sheet]

Children:

STANG, Ethan M. was born 1925, NY, USA; died 4 Aug 2005, Pittsburgh, PA (Allegheny).



Generation: 2
---
This site powered by