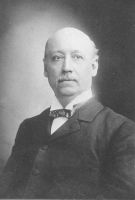 I134
Media
Documents

Joseph Trapnell III letter to Thomas Tidball Trapnell
Aug 4, 1910

My dear Tom,

When I reached my office about noon today, I found yours of yesterday announcing the birth of your son. It was a great relief, for we, especially Mamma, have felt not a little anxiety on account of the long delay. We unite most heartily with you in returning Thanks to our Father in Heaven and prayers that all may continue well with the trio.

I am not well enough to write you at length but, no doubt, Mamma, when she has read your letter will write Edna our congratulations in extenso.

I think your baby is about, or fully, up the average so fars as averdupois is concerned and, as for looks, I believe a newly born infant is, to a a man's eyes, the most disappointing production in natural history. Fortunately they develop rapidly and in, say 30 days, you will hardly credit the statement that it is the same individual.

I am glad to know that Mother and child are doing well and since Edna wanted a boy (which I concur in) that she has it.

My best love and warmest wishes for all hands. Meanwhile keep us posted if you can. As ever,

Yours A f'ly
Joseph Trapnell
Joseph Trapnell III business card
Joseph Trapnell
Co. G 7th VA. Cav. Ashby's Brig
Co D 1st MD. Cav. Paynes' Brig

Jefferson County Camp
U.C.V.

Charles Town, W. VA.
Joseph Trapnell III card
Mr. Joseph Trapnell
Charlestown, W. Va.
No results found.
---
This site powered by