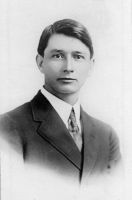 DRYDEN, Fay Ross

1888 - 1941 (52 years)
Fay Dryden Obituary
Fay Dryden Is Second Victim of Encephalitis
Popular Rancher Dies After Brief Illness

Hollister Free Lance, Saturday, January 25, 1941.

Last Saturday night Fay Ross Dryden, 52, collapsed at a benefit dance in the Fairview district where he was a member of the orchestra. Last night he died at Hazel Hawkins hospital from encephalitis (brain disease) which followed a severe attack of influenza.

It was the second case of encephalitis in San Benito county in as many weeks, and both were from the same district. On January 12, 20-year-old Ruby Loveless died at her ranch home in Paicines. She had also suffered a previous attack of influenza.

Mr. Dryden, native San Benitoite, apparently was on the road to recovery from influenza, and last Saturday night was playing in the orchestra when he suffered a relapse.

He was taken to Hazel Hawkins hospital where he was placed under the care of Dr. E. C. Sheldon. Encephalitis, which physicians say is almost invariably fatal, set in and death came last night.

Born here in 1888, Mr. Dryden had been engaged in ranching in the Paicines district the last 20 years, following his discharge from the army at the close of the World War.

Working as an electrician in Boulder City, Colorado when the war broke out, he enlisted and became a top sergeant. In his earlier days he did considerable mining in Virginia City and Tonapah, Nevada.

He was particularly well known in the southern end of the county, and his untimely passing will be mourned by many friends.

He leaves his widow, Joan; a foster daughter, Mrs. Floyd Smith of Walla Walla, Wash, and two cousins, Alvin Ebi of Hollister and Ernest Dryden of Dos Palos.

He had been a member of the local Masonic lodge for many years and services will be conducted by the lodge and by the Rev. Horace May, pastor of the Methodist church.

Services will be conducted 2:00 p.m. Monday from the Black-Cooper Mortuary. Burial will be in the IOOF cemetery.

| | |
| --- | --- |
| Owner/Source | The Free Lance |
| Date | January 25, 1941 |
| Place | Hollister, San Benito, CA |
| Linked to | DRYDEN, Fay Ross (Death) |
---
This site powered by