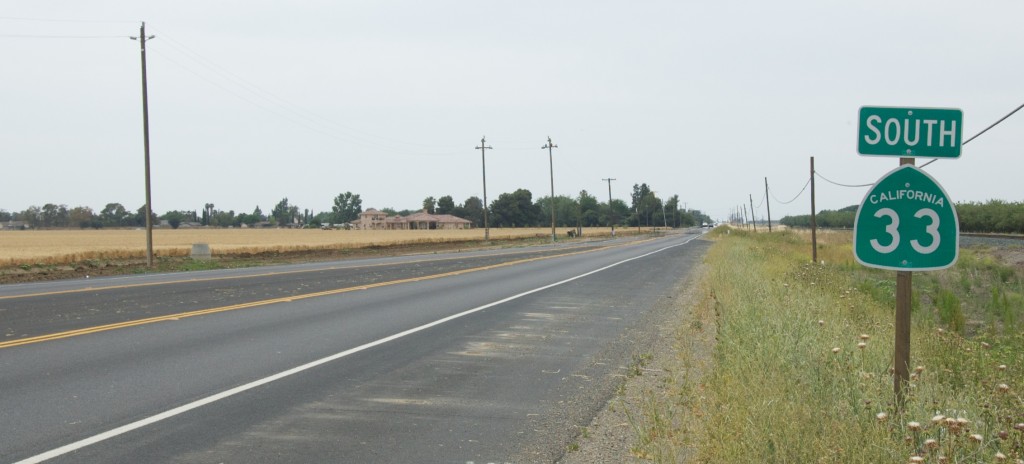 Probably the ugliest and more boring highway in California is Interstate 5. And it's also a road I travel on a regular basis.  So the prospect this past summer of another jaunt to LA via that well-traveled corridor populated by truck convoys and manic Lincoln Navigators was more than I could bear. Instead, we chose California SR 33. And the road less travelled turned out to be far more pleasant than we expected.
SR 33: The peaceful alternative
After complaining about another upcoming trip on I5, Nanette challenged me to find an alternative.  She knew she was in for a better trip if I was in a better frame of mind behind the wheel.  We'd long since worn through the coast-hugging novelty of Hwys 1 and 101, even going out of our way to explore older side roads that provided a glimpse into life in early-mid 20th century California.  It was time to find something new further inland, and California SR 33 seemed like the perfect alternative.
I had only known about SR 33 as a freeway out of Ventura towards Ojai. And I always assumed it petered out somewhere in the mountains before reaching the San Joaquin Valley.  In fact, SR 33 peters out just south of Tracy, and that was good enough for us to give it a go.
Southern stretches
We ended up having a great adventure, traveling over winding roads through beautiful mountain wilderness, seeing plenty interesting sites, and meeting friendly locals along the way.  The best parts of SR 33 are definitely towards the south, but that shouldn't stop you from going the distance.  The entire highway is worth the trip.  On our trip, Nanette and I cataloged some of the high points for a piece that appeared in the Travel section of the San Francisco Chronicle.  I've included some photos from the trip in this post, and you can read the full article at SF Gate.