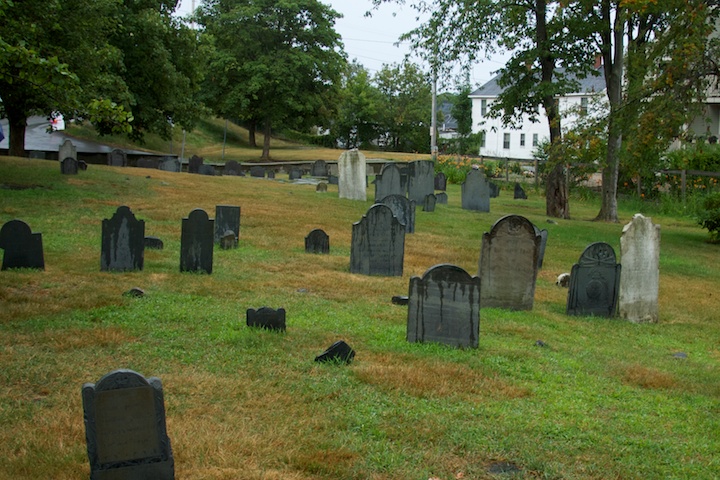 A highlight from a recent New England trip was getting to spend some time in and around Portsmouth, NH.  The town has a rich history for shipbuilding, fishing, and as an important port for the region.  More recently, Portsmouth has become a popular tourist destination, and like most of coastal Maine, the town feels a bit overrun in the middle of summer.
The reason for our visit to Portsmouth was to establish a connection with one of its earliest settlers, Renald Fernald, my eighth great-grandfather.  Renald (aka Reginald) Fernald came to Portsmouth in 1631 as the surgeon of Captain John Mason's Company.  He had previously been a surgeon in the English Navy, and resigned his post to come to America.  In Portsmouth, Renald served in a number of official roles, including Clerk of Court, Recorder of Deeds, Commissioner, Surveyor, and was Town Clerk at the time of his death.  Renald lived on his own island in the Piscataqua River, then called "Doctor's", and known these days as Peirce Island (also Pierce's Island).  He died in the spring-summer of 1656, and is believed to be buried at Point of Graves cemetery, just across the river from his home, along with his wife, Joanna.  Their burials at Point of Graves pre-dated its establishment as a cemetery by 10-15 years, and no headstones prior to 1671 survived due to cattle that grazed the area.
Today Peirce island is reached by a short bridge from Point of Graves, and is home to a city park, popular with dog walkers, as well as a large municipal pool.  It's also the site of a semi-camoflauged sewage treatment plant, surely one of the worst uses of picturesque public open space a city has ever conceived.
Living across the Piscataqua in Kittery, Maine, Renald's son, Thomas was an early shipbuilder.  In 1645, what were then known as Puddington's Islands were leased to Thomas by the agent of Sir Ferdinando Gorges for almost no cost (perhaps a related grant to his father, Renald).  In 1671, Thomas deeded one of them to his brother William, "for the fulfilling of the last Will of our Dere father, Renald Fernald."  Known also as Lay-Claim and Seavey's Island, Fernald's Island later conjoined into Portsmouth Naval Shipyard, and a naval prison. It was the subject of a border dispute between Maine and New Hampshire in 2001, and is currently considered part of Maine.
Access to the shipyard, an active military facility, required some advanced planning.  Nanette contacted the base's Public Information Officer, Gary Hildreth, who generously arranged to give us a personal tour.  In addition to being a PIO, Gary is also a historian, with a wealth of knowledge on the Navy Yard's past, including some of the early land-flipping deals that brought the islands into the government's hands.  He was familiar with the Fernald history on the island, and augmented the standard highlights of the base with information specific to the Fernald history, including a visit to the Fernald family graveyard, a small, well-tended plot, with a handful of graves dating from the early 1700s.
Wrapping up our Portsmouth/Kittery visit, we trooped over to East Berwick, where my particular branch of the Fernald's lived as farmers in the 18th and 19th centuries, before coming to California in the early 1860s.  There we braved poison ivy and hungry mosquitoes in order to visit another family graveyard on private land.  After foraging through the woods and ringing doorbells, we were about to give up when we discovered the plot, which included the flag-adorned grave of my 4th gr-grandfather, Hercules Fernald, a veteran of the American Revolution.