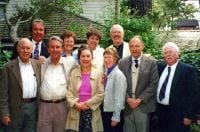 Family: BYRNE, Walter Graves / HOLLAND, Agnes Mercer (F946)
m. 31 Dec 1915













Photos

ByrneReunion
Descendants of George Griffing Byrne Family Photo




Notes


From Oakland Tribune 1 Jan 1916:

New Year Wedding Is Church Affair

Alameda, Jan 1. A pretty wedding ceremony, uniting Miss Agnes Holland, daughter of Dr. Judson A. Holland, and Walter Byrne, son of Mr. and Mrs. George Byrne of Santa Cruz, was performed yesterday at the home of the brides aunt, Mrs. Emma Rathgreb. 2256 San Antonio avenue, bv Rev. C. L. Mears of the First Congregational Church.

There were, about two dozen of the relatives of the young people present at the ceremony and the wedding breakfast which followed. The Lohengrin bridal march was played by the mother of the bridegroom, Mrs. George Byrne.

There were seven at the bride's table including Mr. and Mrs. Walter Byrne, Miss Harriet Byrne, Miss Marjorie Bemus, George Byrne, Wilmot Milham, and Sumner Holland, brother of the bride.



From Oakland Enquirer: She is the daughter of Dr. Judson Holland, county physician of Calaveras county, and a sister of Miss Elois Holland and Sumner Holland. Mr. Byrne is the son of Mr. and Mrs. George Byrne of Santa Cruz. He will take his bride to that city to reside after a wedding trip thru the southern part of the state. [4]



---
This site powered by