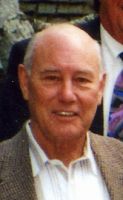 BYRNE, Josephine[1]

- Bef 2008



Father

BYRNE, Walter Graves, b. 2 Nov 1891, San Francisco, California, USA , d. Apr 1949, Oakland, California, USA (Age 57 years)

Mother

HOLLAND, Agnes Mercer, b. 8 May 1889, Sheep Ranch, California, USA , d. 29 Jun 1978, Oakland, California, USA (Age 89 years)

Married

31 Dec 1915
Oakland, Alameda, CA, USA [2, 3]

Notes

Marriage
Date: 31 DEC 1915«s103 Online publication - Ancestry.com. OneWorldTree [database on-line]. Provo, UT, USA: The Generations Network, Inc.»

Photos

ByrneReunion
Descendants of George Griffing Byrne Family Photo

Family ID

F946
Group Sheet | Family Chart




Sources

[S733] Ruth Margaret Byrne Anderson, Ruth was preceded in death by her husband Martin; her brother Walter Byrne; sisters Marian Byrne and Josephine Byrne; brothers-in-law Glen Philpot, Earle Maixner and Delbert Lebbert; and grandson Charles Christopher Wood.


[S116] Santa Cruz Daily Surf, She is the daughter of Dr. Judson Holland, county physician of Calaveras county, and a sister of Miss Elois Holland and Sumner Holland. Mr. Byrne is the son of Mr. and Mrs. George Byrne of Santa Cruz. He will take his bride to that city to reside after a wedding trip thru the souther part of the state -- Oakland Enquirer.


[S311] Family Bible George G Byrne & Helen Graves, Walter and Agnes Mercer Holland, Dec 31, 1915.




---
This site powered by