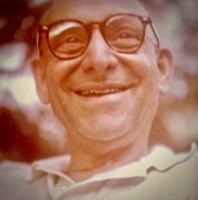 SCHEINER, Frank Samuel

1898 - 1978 (80 years)
Generation: 1
1.
SCHEINER, Frank Samuel was born on 17 Jul 1898 in Clinton St., New York City, USA (son of SCHEINER, Reb Solomon "Sholem" and POLLAKOFF, Kayla); died in Aug 1978 in Sunnyside Queens, NY.

Frank married SHEINAUS, Elizabeth about 1929 in NY?. Elizabeth (daughter of SHEINAUS, Abraham and OREL, Frima (Litttle Bubbe)) was born on 16 Aug 1901 in Elizabeth, New Jersey; died about 1980 in Sunnyside, Queens, NY. [Group Sheet] [Family Chart]

Children:

SCHEINER, Toni Esther was born on 19 May 1930 in Long Island College Hospital, Brooklyn, NY; died about 1997 in North Carolina.



Generation: 2
2.
SCHEINER, Reb Solomon "Sholem" was born in 1865 in Kishinev, Moldava, Bessarabia (son of SCHEINER, Chaim and UNKNOWN, Wife); died in 1945 in New York; was buried in Acacia Cemetery, NY.

Solomon married POLLAKOFF, Kayla about 1886 in Russia. Kayla (daughter of POLIANKOVSKY, Moishe Hersh and UNKNOWN, Wife) was born in 1865 in Oriv, Ukraine, near Odessa; died in 1945 in New York City, New York; was buried in Acacia Cemetery, Queens, NY. [Group Sheet] [Family Chart]





Generation: 3
Generation: 4




---
This site powered by