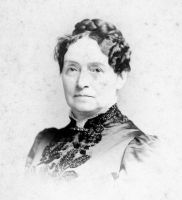 KIRK, Ann[1, 2]




Family

VALENTINE, Samuel Titus, b. 4 Aug 1820, New York, NY, USA , d. 9 Mar 1903, Brooklyn, Kings, New York, USA (Age 82 years)

Married

Y [2]

Children

Last Modified

22 Apr 2012

Family ID

F2311
Group Sheet | Family Chart




Sources

[S49] Edna Valentine Bruce Notes on Barteau, Valentine, Coles, Trapnell, and other family lines, Edna Sarah Valentine, (Unpublished), Keziah Whitson Coles Valentine album: Ann Kirk Valentine (beside photo).


[S369] Valentine, T. W. (Thomas Weston), 1818-1879, (New York, Clark & Maynard), P24: No 34. Generation V -- Stephen Valentine, son of Lewis, married Ann Titus. Issue: Samuel, married Ann Kirk.




---
This site powered by