Headstones
» Show All «Prev 1 2 3 4 5 6 ... 8» Next»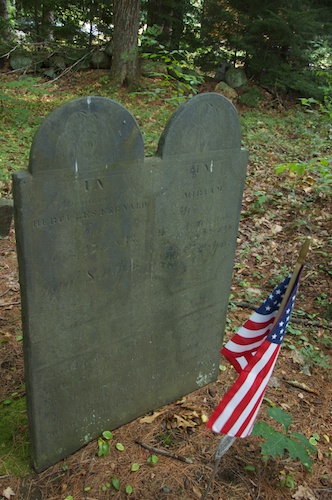 Hercules Fernald & Miriam Persley headstone
Headstone for Hercules Fernald & Miriam Persley, located at Fernald family plot in North Berwick, Maine. Headstone was marked with flag, in tribute to Hercules' contribution as a patriot in the American Revolution.
Status: Located
Fernald Cemetery, North Berwick, York, Maine, USA
Notes: In pines next to stone wall on west side of Beech Ridge Road, near Clark Road, Box 475, North Berwick, York, Maine. Cemetery sits near the boundary of two properties, well back from the road. Recommend seeking permission before attempting to visit.
» Show All «Prev 1 2 3 4 5 6 ... 8» Next»
---
This site powered by